---
The Ultimate Fragrance Experience
100% Natural Perfume Making
PERFUME CLASSES NOW ENROLLING
100% Natural Botanicals

90% Organic Ingredients

One-on-One

Personal Guidance

Allow 1.5 hours

Cost $395.00

Perfume can be Re-ordered

Miriam 0413 024 901
CUSTOM DATE: PRIVATE FOR 2-8 PEOPLE 
WHAT DATE SUITS YOU?
All Classes @ 10am @ 31 Pantheon St, Jindalee
Call Miriam: 0413 024 901 for bookings
$500 for 2 x people
$199 per person groups of 3 or more
Location: 31 Pantheon St, Jindalee (nr Indooroopilly)

100% Natural Botanicals

90% Organic Ingredients

Groups of 2-8

Choose Your Date

Allow 2 hours

Cost $199.00 per person
Perfume can be Re-ordered
Miriam 0413 024 901
Email info@theoriagold.com
Bookings only confirmed with full payment
100% Natural Botanicals

90% Organic Ingredients

Bespoke Creation

Personal or Business

Three private consultations

Allow 9 weeks

$880

Perfume can be reordered

Miriam 0413 024 901
Theoria Gold's Patmos and Orange Exotique are both Parfums, of the highest concentration.
Parfum, also called perfume extract or extrait, is the most expensive version of any fragrance; it's also the most beautiful because of the whole symphony of top, heart and base notes released over a period of time. This is due to the high concentration of essences – from 25% and up to as much as 40% by volume of juice.
Parfum is applied directly to the skin on pulse spots – insides of the wrists, behind the ears, at the throat.  Many have told me they like to dab a little Theoria Gold Parfum in their hair.  Patmos is particularly synegistic with those with darker shades of hair.  The French apply Parfum to the backs of their knees, (highly recommend)….  My favourite area to apply Theoria Gold Parfum is on the upper arms, so it can easily be enjoyed.  The average concentration of essence in a perfume is 25%, which makes it the longest lasting of all the scent categories.
Keep Theoria Gold Parfum with you and reapply as needed, from 1-3 x per day. Designed to keep in your handbag or man bag.
Theoria Gold Parfums do not contain alcohol and are 20 mils in size which means you can take your perfume in your hand luggage on planes. It also means that Theoria Gold perfumes can be posted any where in the world, as they are not classified as a dangerous good.
Jojoba oil is a liquid wax extracted from the nut of an indigenous American shrub that goes by the scientific name Simmondsia chinensis. The shrubby tree grows wild in the United States, mainly in the arid regions of the Southwestern states.
SIGN UP TO OUR NEWSLETTER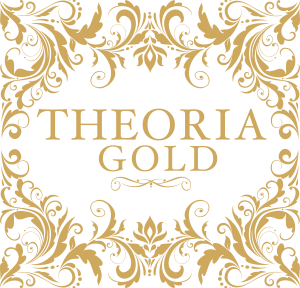 ---
Theoria Gold Parfums are 100% botanical & organic wherever possible. They are alcohol free and vegan.