Australian Natural Perfume: About Theoria Gold
Let me hold you, embrace you, kiss you on both cheeks, but most of all let me smell you, for then I will love you.
Miriam Young
Miriam Young is the natural perfumer of Theoria Gold, and is trained in the Traditional French method.
She began her journey as an Aromatherapist in 1995 and then went onto become a Medical Herbalist, Counsellor and Healer. Miriam is the internationally best selling author of DETOX FOR LIVING, Natural Cleanses for Modern Disease. Miriam has been in practice as a Medical Herbalist for 24 years.
Rose Aimée is Miriam's premier Australian Natural Perfume.
Miriam has always had a deep love of fragrance and remembers well the aroma of her mother's clothes in the early 70's – the boldness of the controversial Opium and the feminine scent of Anais Anais.
Miriam's absolute passion is sharing the joy of fragrance with the Ultimate Fragrance Experience – the workshops she runs in Brisbane.  Miriam also creates bespoke fragrances for individuals and businesses.
The Art of Perfumery
Perfumery is the ultimate spiritual journey. You have to be daring. You have to break the rules. Yet you have to be moderate, consistent.
Perfumery tests the depths of your creativity. And brings you to your knees with the patience that is required. Intuition, listening is everything. And each day brings a new challenge.
"My career in natural medicine started with Aromatherapy. On my 21st birthday, my Mother purchased a couple of oils for me and a book on Aromatherapy. I loved them.  
I then went on to became a qualified Medical Herbalist and in 2016 journeyed back to natural botanicals once more and became a qualified French Botanical Perfumer!  My training was with a 4th generation perfumer from France.
My passion is plants, plants that heal and plants that uplift the human spirit.  We would not survive without them, and there is nothing more uplifting in the world, than a pure, natural fragrance."  Miriam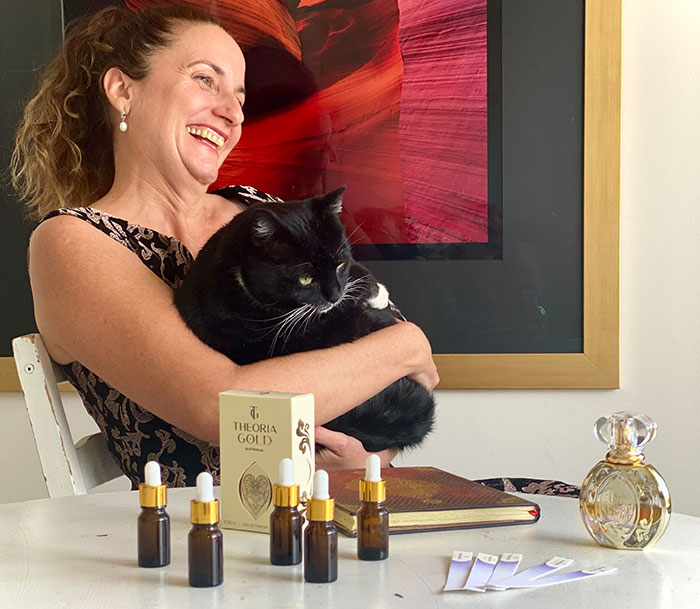 ALCHEMY
Perfumes made from plants and herbal medicines – I am a mixer of pure plant materials – creations that heal and uplift the human condition.   This affects the subconscious, physical, emotional and mental aspects of every person who uses them.
Your soul is waiting for you.
Miriam Young
Australian Natural Perfume
Discover the essence of pure luxury with Theoria Gold, the leading name in 100% natural perfumery, meticulously crafted by the acclaimed French Botanical Perfumer, Miriam Young.
As Australia's premier destination for exquisite fragrances, Theoria Gold offers a range of captivating scents that elevate your sensory experience to new heights.
Miriam's expertise and dedication to using only the finest natural ingredients create perfumes that are a true work of art. Each fragrance is a harmonious blend of nature's treasures, curated to bring you an olfactory journey like no other.
Experience the allure of nature's bounty with Theoria Gold, where every drop of perfume embodies the essence of luxury, sophistication, and purity.
Our fragrances are not just scents; they are stories, emotions, and memories encapsulated in a bottle.
Elevate your fragrance game with Theoria Gold, where excellence meets elegance, and nature meets luxury.
Discover the difference today.
Brisbane Perfume Workshops
The Ultimate Fragrance Experience Workshops in Jindalee, Brisbane
The only 100% natural perfumery workshop in Australia, conducted by a fully qualified French Botanical perfumer.  
This is a hands on experience in making your very own Eau de Parfum using the traditional French Method with Miriam Young, Perfumer.
Book a public workshop or enquire or request a private group workshop here.