The Ultimate Fragrance Experience
Workshops in Jindalee, Brisbane
The only 100% natural perfumery workshop in Australia, conducted by a fully qualified French Botanical perfumer.  
CUSTOM DATE: PRIVATE FOR 1-8 PEOPLE 
Call Miriam: 0413 024 901 for bookings & let me know what suits
Location: 31 Pantheon Street, Jindalee, Brisbane 
This is a hands on experience in making your very own Eau de Parfum using the traditional French Method with Miriam Young, Perfumer.
Learn how to choose and blend top notes, middle notes and base notes whilst creating a harmonious fragrant medley to match your scent preferences. Work with materials from the major scent families including, Floral, Oriental, Citrus, Aromatic, Wood, Green and Moss. Male, as well as Feminine scents can be created, and our male clients enjoy the workshop just as much as our ladies.
Allow 2 hours for the workshop

No synthetic materials

90% of the aromatics you will be using are certified organic
The exciting thing about working with absolute naturals is that after you go home, you will find your creation will shift, move and expand during the coming weeks, as your unique combination of plant molecules blend and harmonise. Your perfume creation will be complete approximately 2-5 weeks after your Perfumery Experience, less in the summer months.
Maximum number of participants – 8

Minimum number of participants – 1
Your perfume can be re-ordered
We recommend this event for Birthdays, Wedding Perfumery, Hen's Parties, Anniversaries, Valentines, Christmas Events, other Special Occasions or just because you can.
Investment
1 person – $398
2 people – $500 for both
3 -8 people – $199 per person
Times
Saturdays 10am or at your request – Text me for availability – 0413 024 901
I can travel for groups of 5-8.
Other times can be organised by appointment, contact Miriam Young 0413 024 901 or email info@theoriagold.com
Do you have an upcoming event, in which you would like to offer The Ultimate Fragrance Experience?  We can come to you, please contact Miriam Young – 0413 024 901 & info@theoriagold.com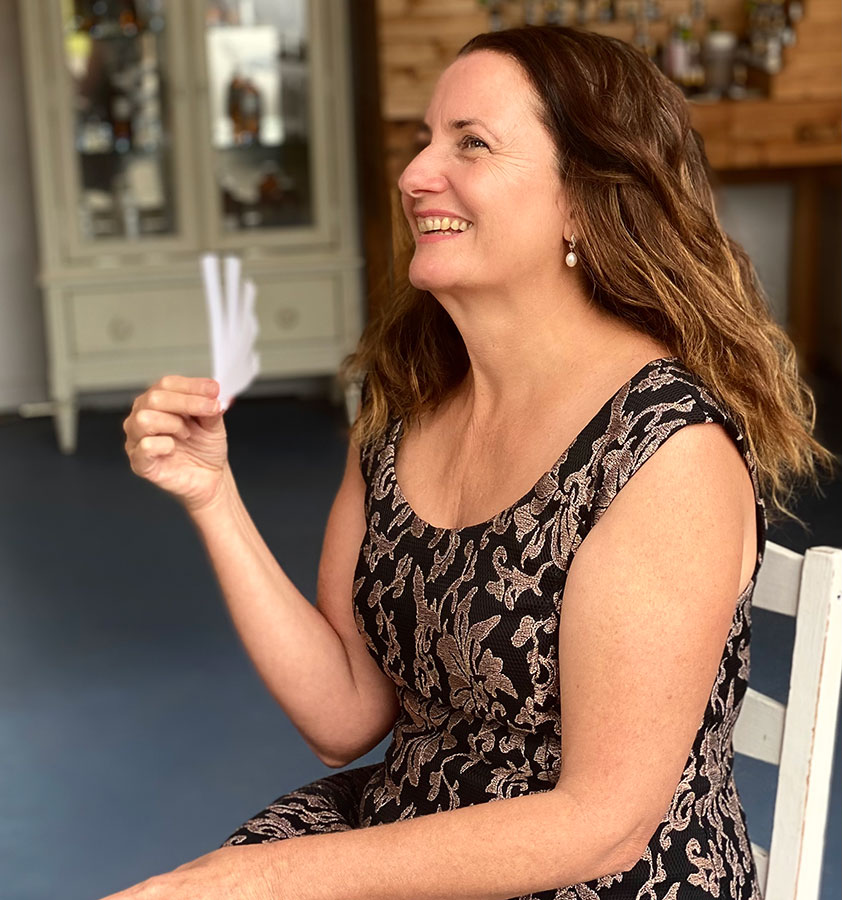 Miriam Young, French Perfumer & Medical Herbalist
TESTIMONIALS
Miriam was lovely. We really enjoyed the class and making our own unique perfumes. She had a great range of scents to work with and was really helpful in helping us make what we wanted.
Emma Nicholls
Miriam has a great passion for and extensive knowledge of perfumery and was very generous and organised in the way she shared it.
W Marshall
Miriam is exceptionally kind, friendly and a truly knowledgeable perfumer. She gave us novices a great insight into the world of perfumery and an appreciation for her craft.
Sailesh Venkatachalam
A workshop like no other.  Miriam is a passionate perfumer who shares her incredible knowledge of natural perfurmery in an easy, very hands on way.
C Mathers
A truly unique experience that leaves you feeling wonderfully uplifted with a take home of your very own perfume.  A once in a lifetime experience.
C Mathers
Miriam was passionate and informative about perfume scents and the process of making perfume. This was a great activity for my wife and I to do together.
Corrine Tye-Lim
Miriam was fantastic – she shared her knowledge and parfumerie in a fun and educational workshop, letting us create and think about our perfumes. My friends and I had a wonderful time for my birthday.
Corrine Tye-Lim
We had a great time learning how to develop fragrances and designing our own with Miriam's expert help! It was a fantastic experience, I would highly recommend this workshop.
Angela West
Miriam has a wonderful ability to help you connect fragrance with emotion, so that you can handcraft your own beautifully natural parfume and take it home with you! So much fun choosing the different notes and blending them together. Highly recommend
E Castle
Incredible class, Miriam is very knowledgeable and conveys this in a well thought out and super interesting class. Would definitely recommend it for couples interested in doing something out of the ordinary.
Rijald Hadzalic
BESPOKE PERFUME CREATION
This is where Miriam Young will create a scent specifically for yourself or for your business.
Includes 3 x consultations - spaced 3 x weeks apart

Perfume can be provided in bulk and reordered

By appointment - contact Miriam Young 0413 024 901 & info@theoriagold.com